Communication, especially in the digital era, ought to be one of the primary activities of any heritage project. Since heritage protection and promotion is about education and strengthening societal ties and identity, effective communication is the tool for success. 
A communication plan and strategy are well-thought documents that outline the form of outreach based on a comprehensive understanding of your audience. It is about telling a story and managing your content. 
In this post, we present the basics for a communication plan for heritage activities. A communication plan should contain the following:
 Mission -> Audience -> Appeal  
Strategy Objectives 
These are the objectives of your communication plan, not to be confused with your organisation objectives. You set goals to help focus your plan, define your actions and harmonise your communication. 
Mission Statement
This statement contains who you are and what you do. To draft a good mission statement, you need to identify and understand who is your audience and demonstrate the values you want to share. 
Audience Map
Start by acknowledging who has an interest in what you do, what groups are related to them and how they communicate with each other. 
Here is an example of our audience map: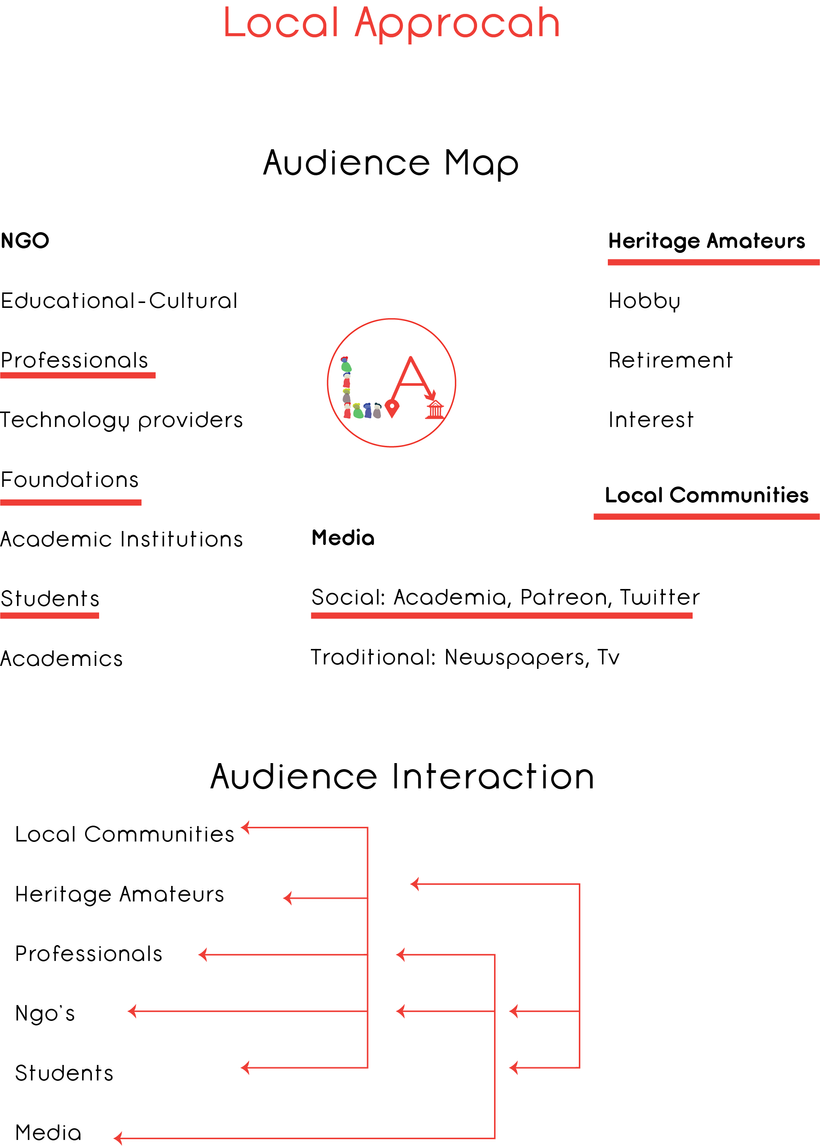 Key Messages
These messages are specific and short, that promote your mission and engage your audience. 
Unlike slogans, they promote your values and answer to your audience. To craft each message, you have to consider the following for your audience: 
What they want and need?
What are their problems?
How can your activity solve their problems?
What actions can you make them take?
Your messages have to be honest and supported by facts. Therefore you should stir away from absolute statements such as " we are the best…". 
Content
People respond to stories more than anything, so your contents' quality is most significant.
How do I make a story?
First, have the idea for your story and whether it is relevant to your audience. Identify the main points and what side you present. Ensure the story is relevant, to the time, and newsworthy. Once you share it, you need to be ready to defend it, offer more information and open a discussion. 
Stories work well when they are about real people or local actions that are related to your activities and supported with visuals elements. Learn more techniques with our follow up article on storytelling. 
Journalists use writing techniques which you need to learn and implement on your content. (e.g. article structure: Leads, Nut- Graph, Body, Close). How you present a story is equally important to the story itself. 
Media Tactics 
Media tactics encompass the diffusion of your content. Create a timeline and find out, through marketing, when are the best times to post and what. List your activities by month and detail what actions you plan to take on each. 
Social Media
Social media offer you direct communication with the public, help promote your activities and maintain your relevance. 
Each online media platform presents different ways your messages are shared. Therefore, you need to invest in more than one.  These include your website, social media pages (Twitter, Instagram, Facebook), blogs, online stores, mainstream media and chat applications. 
Moreover, online media offer a quick and easy way to maintain a connection with your community.  You can use them to present your content in multiple ways, such as visual, and can even grow your community.
Make sure you maintain a balance between your posts depending on your audience, as bombarding them with information is as ineffective as no presence. 
Employ News Releases
Communication Toolkit
Define your brand, and offer information such as logo, typeface, formatting. 
Create a Fact Sheet, is an honest assessment of your project and mission. Includes all the necessary information such as statistics, success stories, notable achievements as well as the bad, so you control the narrative.
Offer FAQ's
Media training
Monitoring 
A communication plan is not just about how you say things but also assessing how you are perceived. You have to check for posts about you,  build a relationship with the people and participate, as well as shaping their message.
Consider investing in existing tools such as Google Alerts so you can keep a close eye on the content about you. 
Letter to the Editor and Op-ens, these are tools you have to prepare internally generally more common to established organisations. There are several examples online on how to do this. The key is to respond within the first days of publication. 
Interview prep
If your communication plan worked and you have an interview you need to prepare. Get to know the journalist and the platform you will appear. Be informed on all aspects of your messages and your industry and stick to your fact sheet.  
Outcomes and Measurement
Estimate realistically what your communication activities' result will be and manage your expectations. 
Measure the visibility of your activity, such as comments, likes, shares, or tools such as google analytics.  Most platforms already include such tools for you to use. 
Final thoughts 
Share your communication plan throughout your organisation and make adjustments according to their feedback. This document is not "set in stone" if you will, you have to update it and improve it based on the feedback you receive from your audience and organisation. Measure the outcomes of the plan according to its objectives. 
Communication, like fundraising, is a team sport, you need to be proactive and work closely with your communications team, as well as all members of your organisation are aware and give inputs to the drafting. 
I want to learn more:
There are many resources online on how to draft a communication plan and strategy, so here are two examples Local Approach hopes you will find useful. Let us know if you need more information on the topic. 
"Communication Strategy. A best practice guide to developing a communication campaign" Joint industry guidelines for marketing professionals in working effectively with agencies 
ICOM Communication Kit for Museums for Equality: Diversity and Inclusion, International Museum Day 2020 
Our articles: