InTaVia, or In/Tangible European Heritage – Visual Analysis, Curation and Communication, aims to contextualise digitised tangible heritage with its intangible history. The project started in November 2020 and with European funding universities from Austria, Netherlands, Slovenia, Finland, Denmark and Germany coordinate to advance the project. In a nutshell, InTaVia will host an information platform where a tangible heritage will be holistically available along with intangible information, its story and structural data. Thus, creating a user-centred portal giving access to all knowledge on a specific cultural heritage. Moreover, this system will serve as a model for future data gathering.
Digital collections of heritage objects grow exponentially; you can access a digital catalogue and view online scans or 3D objects with their description of dimensions and point of origin, of most museum collections. However, there is no standard for the information presentation or in-depth information about how these objects connect to the broader historical context. Hence, this need for broader context created InTaVia.
How it works
The project will draw over 250.000 biographies of people between 17th-20th century from national biography projects and biographical databases and create an integrated 'object-oriented biographical database'. The project will create a model for biographical data gathering and combine them. Moreover, they will advance text mining tools to improve the structure of text and data. The curated information will be part of an accessible interactive platform, including narrative displays for the public.
The project combines experts of computer technologies and cultural heritage, together create optimal access to information. The project works on four axes.
Historiographic research questions and user requirements
System and data integration
Mining and curation of biographical and other historiographical text
Visual analysis and communication of object and biography collection data
You can visit their page to learn in detail about each aspect here.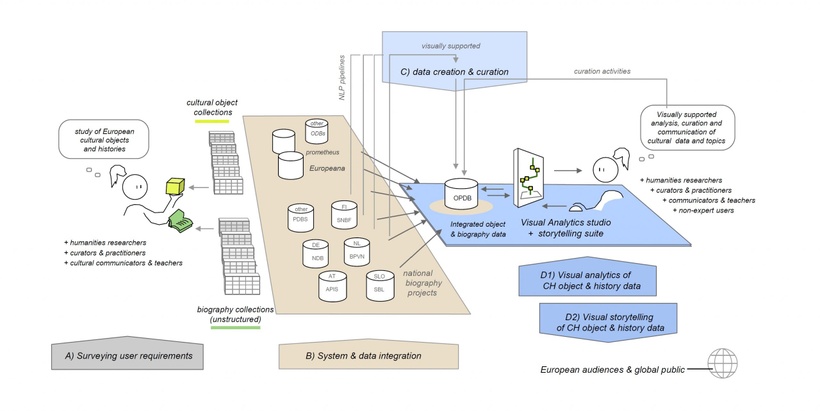 ©InTaVia
Our take
The project is at its infancy with results not yet available. But the questions and methodologies are imperative to our understanding of access to and heritage itself. Access to cultural heritage is debated and evolving daily in recent years, and while standards exist for presentation and exhibition, there are none for digital collections. Perhaps this was not a prominent issue while we could visit museums pre Covid, but in perspective, across Europe are spread parts of heritage collections with no unified access. For example, I want to see paintings of Van Gogh, so I visit the Van Gogh Museum in Amsterdam, then the Musée d'Orsay in Paris and finally go to Saint-Rémy-de-Provence and view the landscape. So the cultural heritage value of Van Gogh, tangible and intangible, is spread across three locations (at least), I cannot visit all three, but I can access them online. Here lays the case for unification and holistic presentation of the heritage in one context. In our example, a painting is dimensions, paint and canvas, the artist, multiple locations and values attached to them and there should be a portal where all those information are combined a presented.
InTaVia seeks to do precisely that for all heritage across Europe, increasing our understanding of specific objects and historical continuity. Preserving history effectively and giving access to academics and the public alike.
I want to learn more:
In/Tangible European Heritage – Visual Analysis, Curation and Communication