Review: Yayoi Kusama: Infinity Mirror Rooms
Duration: 18 May 2021 – 12 June 2022
Location: Tate Modern, London
Curated by Frances Morris and Katy Wan
Starting at the basics:
Yayoi Kusama is a Japanese artist (b.1929) widely known for artworks filled with polka dot patterns. Whether it is paintings, sculptures, installations or even performance art, it's all about the dots. She first became internationally recognised during the 1960s New York avant-garde scene, now, is one of the best-selling female artists and an art pioneer of the 21st century. For those not familiar with her work, it's worth noting that Kusama's creative intuition manifested from childhood hallucinations and her obsessive-compulsive disorder.
The exhibition:
Located on Level 4 of the Blavatnik Building, the exhibition spreads over two rooms.
The first room starts with a brief introduction and photographs of Kusama's life, which lead to the other side of the room and towards a reflective cube sculpture with colourful see-through dots on a glass stand, called The Universe as Seen from the Stairway to Heaven (2021). Its small scale makes it the perfect introduction to Infinity Rooms. A simple structure on the outside, with infinite reflections of people looking in surrounded by dots on the inside.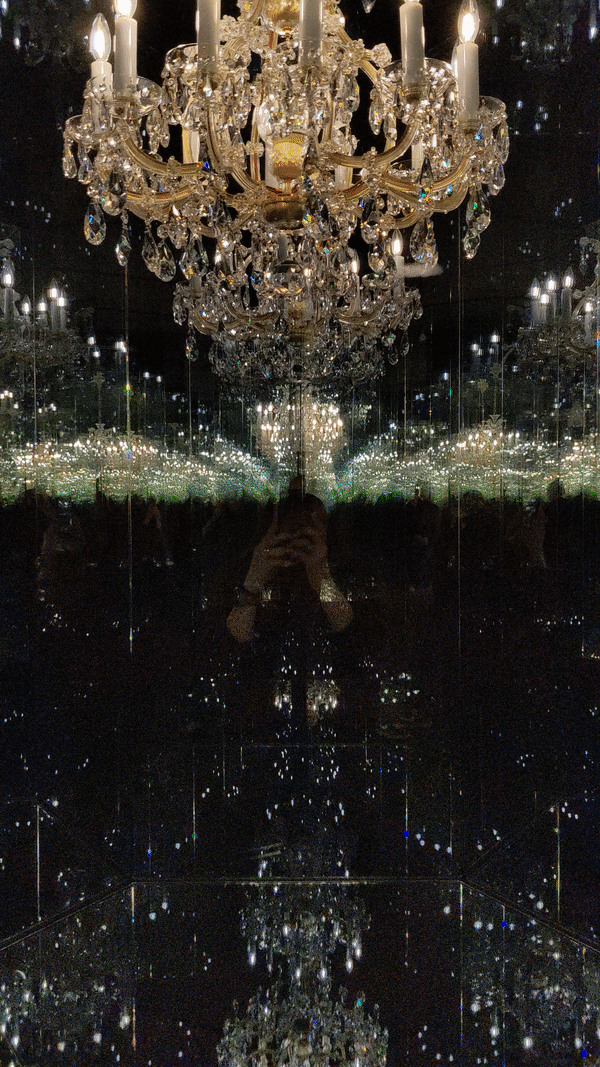 © A. Papaonisiforou. 2021. Infinity Mirror Rooms, Tate Modern, London
The second room of the exhibition includes two smaller temporary rooms that house the two Infinity Mirror Rooms. The Chandelier of Grief (2016/2018), a rotating crystal chandelier with flickering lights hanging from above surrounded by mirrors and the Infinity Mirrored Room – Filled with the Brilliance of Life (2011/2017), a mirrored room with a zig-zag walkway over a shallow pool of water filled with tiny dots of multicoloured flickering LED lights.
The exterior white walls of the Infinity Rooms blend in with the interior white wall aesthetic of Tate's galleries and compliment the experience of entering the rooms as a whole. Visitors are only allowed to enter each room in groups of 4 for only 2 minutes at a time, which means people are queuing for a brief 30 seconds per visitor per room. Despite the limitations on time, you can queue as many times as you can physically handle.
Alongside the Infinity Rooms, there are two separate slide projections.  Walking Piece (1966) is a photographic series by Erikoh Hosoe of Kusama walking through New York City wearing a pink kimono and holding a parasol, an artistic response towards the racist anti-Japanese propaganda that followed WWII. The second projection is a documentary-style film by John Jones of Kusama in her studio surrounded by her artworks in the mid-sixties. The exhibition ends with more photographs of Kusama from the mid-sixties and her work during that period.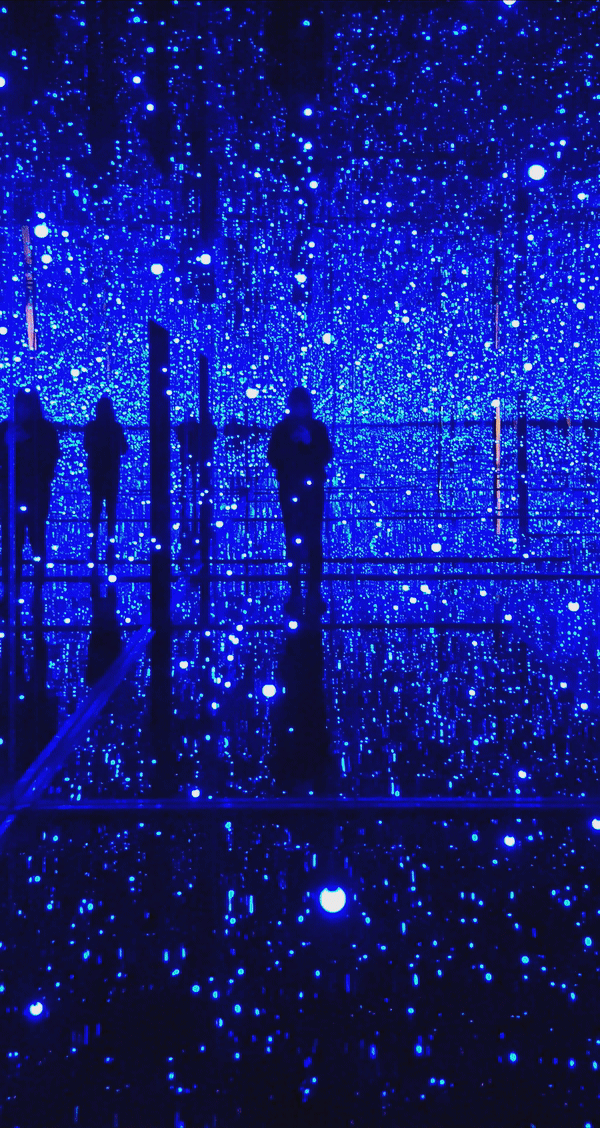 © A. Papaonisiforou. 2021. Infinity Mirror Rooms, Tate Modern, London
Our take:
Despite being delayed by the lockdown, the exhibition is quite popular! If you plan to visit, be prepared to spend more time queuing rather than inside the installations. They are definitely worth the wait if you love immersive environments of endless reflections and infinite space that create the feeling of self-obliteration.
An enchanting spatial experience that completely submerges you.
The installations have rightfully become a worldwide museum craze and quite the social media sensation. Raising the question, are museums displaying the Infinity Rooms because they are phenomenal works of art or are they taking advantage of the social media crowds they attract to raise visitor numbers?
I want to learn more:
Tate
Yayoi Kusama: Infinity Mirror Rooms
An Introduction to Yayoi Kusama
Yayoi Kusama: Obsessed with Polka Dots
Wepresent- Yes, but why? Yayoi Kusama
About the author:
Anastasia Papaonisiforou is a London based exhibitions expert with an MA in Curating and Collections and a background in Fine Arts. She is our oldest patron and graciously accepted to cover this topic for Local Approach; she is available to give advice on discord through our "Let's talk about your heritage!" membership, upon specific request.
[Edited A. Gkouma]
More from Anastasia:
Curating: a viewer's perspective
Your Curated Reading List series