The Ghibli Museum in Tokyo, Japan,  dedicated to animations films created by Studio Ghibli and director Hayao Miyazaki, strives to create a unique experience for its visitors. 
Studio Ghibli and Hayao Miyazaki created some of the most incredible and famous anime films worldwide. Their films hold a special place in the hearts of Japanese and international audiences alike, such as Spirited Away, Princess Mononoke and many more.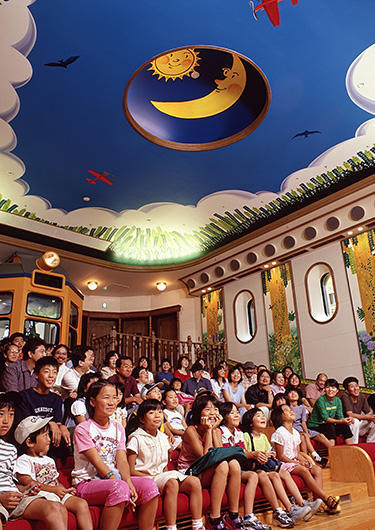 The Saturn Theater, © Ghibli Museum
The museum moves beyond the display of artefacts but introduces the artistic process to the visitor. The permanent exhibitions educate on the history and making-process of animation enhanced with temporary exhibitions and showcasing short animation films designed for the museum at their in-house theatre. There is a workshop area, cafe, reading room and rooftop with statutes of Ghibli characters.  Curation of the exhibits is everywhere in the design, painted ceilings and interactive exhibits guide the visitor into the artistic journey of how an animation film is made rather than artworks from past projects. The museum is accessible to all, enjoyed by children, adults and people with special needs. 
  The Cat Bus  © Ghibli Museum 
Furthermore, the museum is a Public Interest Incorporated Foundation a type of not-for-profit organisation that designs projects to generate public interest and invests its earnings on new projects that benefit the public. 
The operations of this museum are admirable as they actively engage their audience, cater to them but most importantly focus on education rather than passive exhibitions of objects. Understanding that many museums, especially the old ones, were not created, designed and built for this purpose and adaptation is difficult however not impossible.  Museum and heritage professional should draw inspiration and try to present the multifaceted elements of any heritage through education. 
Hayao Miyazaki's  "This is the Kind of Museum I Want to Make!" summarises perfectly what a contemporary museum should be: 
"A museum that is interesting and which relaxes the soul
 A museum where much can be discovered
 A museum based on a clear and consistent philosophy
 A museum where those seeking enjoyment can enjoy, 
 those seeking to ponder can ponder, and those seeking to feel can feel
 A museum that makes you feel more enriched 
 when you leave than when you entered!
To make such a museum, the building must be…
 Put together as if it were a film
 Not arrogant, magnificent, flamboyant, or suffocating
 Quality space where people can feel at home, 
 especially when it's not crowded
 A building that has a warm feel and touch
 A building where the breeze and sunlight can freely flow through
The museum must be run in such a way that…
 Small children are treated as if they were grown-ups
 Visitors with disabilities are accommodated as much as possible
 The staff can be confident and proud of their work
 Visitors are not controlled with predetermined courses and fixed directions
 It is suffused with ideas and new challenges 
 so that the exhibits do not get dusty or old, 
 and that investments are made to realize that goal
The displays will be…
 Not only for the benefit of people who are already fans of Studio Ghibli
 Not a procession of artwork from past Ghibli films 
 as if it were "a museum of the past"
 A place where visitors can enjoy by just looking, 
 can understand the artists' spirits, 
 and can gain new insights into animation
Original works and pictures will be made to be exhibited at the museum
 A project room and an exhibit room will be made, showing movement and life (Original short films will be produced to be released in the museum!)
 Ghibli's past films will be probed for understanding at a deeper level
The café will be…
 An important place for relaxation and enjoyment
 A place that doesn't underestimate the difficulties of running a museum café
 A good café with a style all its own 
 where running a café is taken seriously and done right
The museum shop will be… 
 Well-prepared and well-presented 
 for the sake of the visitors and running the museum
 Not a bargain shop that attaches importance 
 only to the amount of sales
 A shop that continues to strive to be a better shop
 Where original items made only for the museum are found
The museum's relation to the park is… 
 Not just about caring for the plants and surrounding greenery 
 but also planning for how things can improve ten years into the future
 Seeking a way of being and running the museum 
 so that the surrounding park will become even lusher and better, 
 which will in turn make the museum better as well!
This is what I expect the museum to be, 
 and therefore I will find a way to do it
This is the kind of museum I don't want to make! 
 A pretentious museum
 An arrogant museum
 A museum that treats its contents 
 as if they were more important than people
 A museum that displays uninteresting works as if they were significant"
I want to learn more: