"EAMENA: Endangered Archaeology in the Middle East & North Africa project" strives to collect, record and assess the status of archaeological sites in the region, creating an open-source database. International and national professionals can access the database to identify the most endangered sites and plan and implement preservative and protective measures.
Sites face several threats as looting, conflict, natural erosion and agricultural and urban expansion.
The team is part of the School of Archaeology at Oxford,  Universities of Leicester and Durham. The EAMENA Database, supported by the Arcadia Fund, combines satellite imagery and published reports to provide information on threatened archaeological sites and landscapes. The database is available in both English and Arabic and is continually updated.
The project collaborates with the Royal Jordanian Air Force for over two decades to collect aerial imagery of sites compiling the Aerial Photographic Archive for Archaeology in the Middle East Archive, including digitised collections!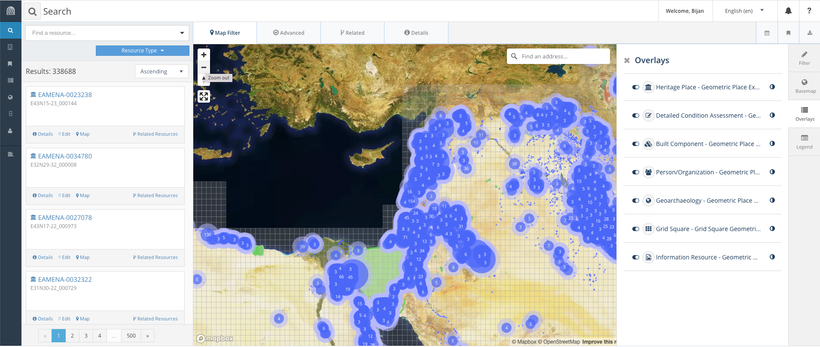 © EMENA
Users can view the project's progress by clicking on Map View, which displays over 338,000 records. The database includes various types of records, such as site records, Detailed Condition Assessments, Built Components, Geoarchaeology, Person/Organisation, and Information Resources.
The Map View allows zooming in to see more details about each area and searching the EAMENA Database for records created by the project.
"Aims & values
Identify, understand and monitor the endangered archaeology of MENA.
Create a record of sites and monuments for each country in MENA.
Train and empower heritage defenders in the region.
Make information freely accessible.
Help to protect and conserve MENA's archaeological heritage.
Raise awareness and encourage informed debate.
Create networks and share knowledge, within MENA and abroad.
Assist customs and law enforcement agencies tackling looting and the illegal trade in antiquities."
The project also offers case studies, insight into threats, publications, resources and more!"
Our Take
EAMENA is a benchmark project in heritage protection and documentation. Their open-source practices and database offer an enormous amount of valuable data ready for interpretation providing experts with incalculable knowledge of the region, potential threats to heritage and ways to safeguard it. 
***We certainly hope to see an AI trained on this (sic)***
I want to learn more:
Aerial Photographic Archive for Archaeology in the Middle East Archive