Duration: 22/02/2023 – 01/10/2023
Location: Lightroom (Kings Cross)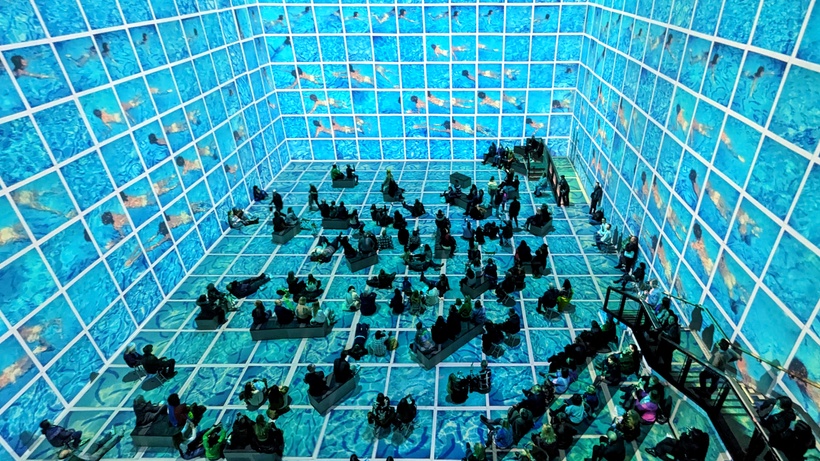 © A. Papaonisiforou, Lightroom
David Hockney (born in 1937) is a highly regarded British artist associated with the pop art movement of the 60s. Hockney has experimented with a wide range of mediums and techniques, making him a recognised painter, a photographer, a draftsman, a printmaker and a stage designer. His art is simple and full of colour, with the most iconic works being the swimming pool paintings: A Bigger Splash (1967) and Portrait of an Artist ( Pool With Two Figures) (1972).
With the emergence of high-tech art shows in the art scene lately, it was only expected to have one focusing on Hockney's work based in London. David Hockney: Bigger & Closer (not smaller & further away) is an audio-visual, large-scale projection of Hockney's 60-year career, displayed in the Lightroom. The Lightroom is a newly built innovative show space that represents the definition of a white cube gallery space. Located underground and equipped with the latest audio and digital projection technologies, it can create the perfect environment for extraordinary immersive experiences.
Imagine entering a large-scale room with very high ceilings and no windows and being showered with artistic projections that move around you on all four walls and the floor space. There are seating benches on the floor space and an amphitheatre-style seating area in one of the corners. Besides the floor space and on one side of the room, there are additional viewing areas over two mezzanine levels.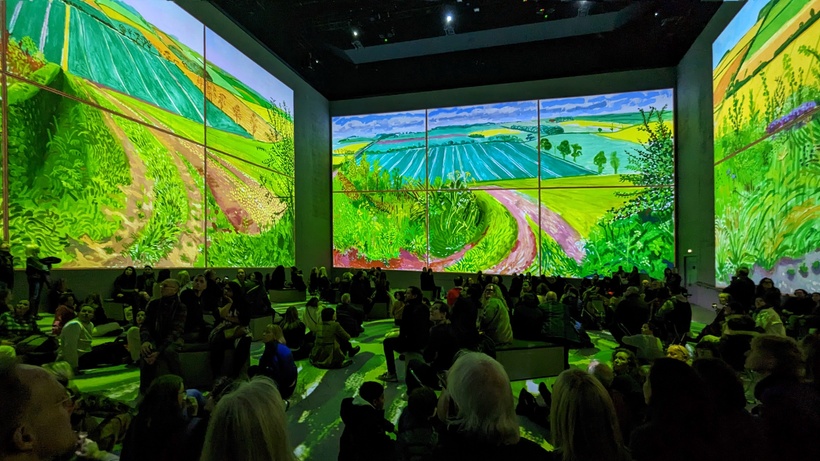 © A. Papaonisiforou, Lightroom
The display itself is an immersive cinematic autobiographical exhibition. It is a journey through Hockney's art career and is narrated by him, enabling the viewers to experience the work through Hockney's eyes. There are six chapters, and one complete loop lasts 50 minutes. Each chapter has a different theme, a specific time frame from Hockney's life from LA to Yorkshire and Normandy. Viewers get a complete walkthrough of the behind-the-scenes and Hockney's artistic process. A breakdown of the different medium experiments ad varied perspectives. As the title suggests, each colourful projection is viewed up close and personal.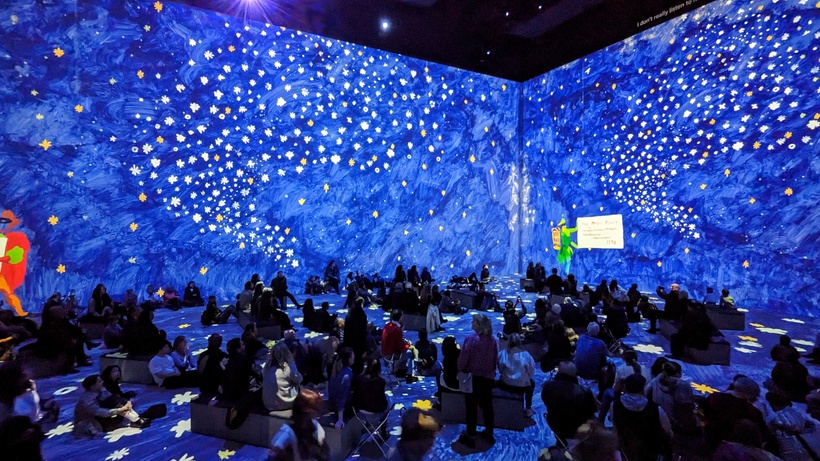 © A. Papaonisiforou, Lightroom
Our take
This show differs from other projection-based immersive experiences solely because of the audio element. Typically these types of exhibitions have soft music playing throughout, but with this one, the viewers get to listen to the artist himself talk about and explain his work. An artist that is 86 years old that is still experimenting and making art today. We enjoyed this spatial immersive experience more than any other! We cannot wait to find out what's next.
I want to learn more:
David Hockney: Bigger & Closer (not smaller & further away)  Lightroom
Audiences React to David Hockney: Bigger & Closer (not smaller & further away) at Lightroom 
About the author:
Anastasia Papaonisiforou is a London based exhibitions expert with an MA in Curating and Collections and a background in Fine Arts. She is our oldest patron and graciously accepted to cover this topic for Local Approach; she is available to give advice on discord through our "Let's talk about your heritage!" membership, upon specific request.
[Edited A. Gkouma]
More from Anastasia:
Curating: a viewer's perspective
Your Curated Reading List series