Duration: 18 May – 21 November 2021
Location: Tate Modern, London
Organised by: Tate Modern and Musée Rodin, Paris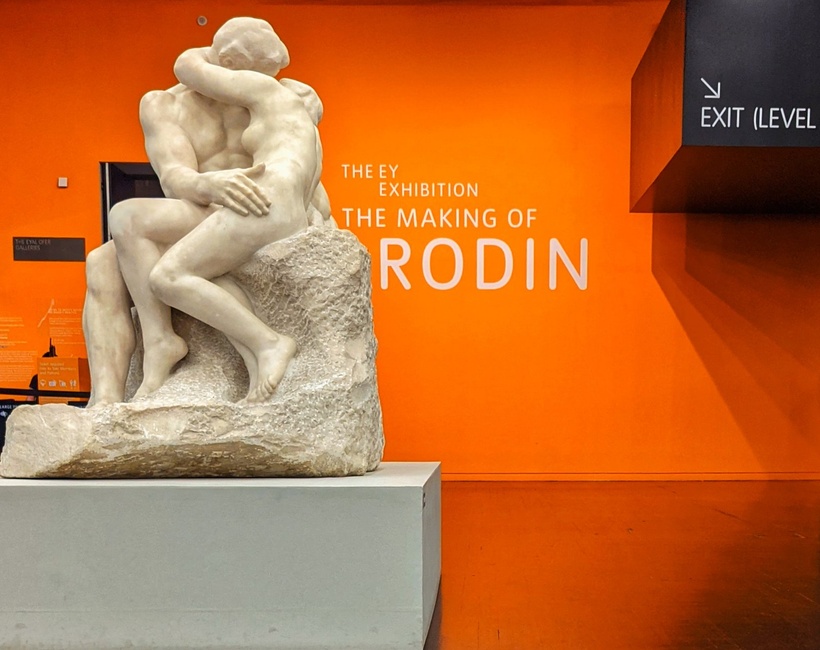 © A. Papaonisiforou. The Kiss, Tate Modern
Auguste Rodin (1840-1917) is a French sculptor considered to be the father of modern sculpture as we know it today. Inspired by ancient Greek and Roman art, he is known for his complex bronze and marble sculptures that capture movement and emotions. Popular examples of his work include The Kiss (1882), The Thinker (1903)  and The Gates of Hell (1890).
Exhibition introduction
The Making of Rodin, currently on display at Tate Modern, features over 200 artworks spread over 8 rooms, the main focus being plaster models rather than the finished marble and bronze products you would normally see. Most of these works are on loan from the Musée Rodin in Paris and have never been displayed outside France.
Plaster casts are more of a transitional medium and only represent a fraction of the sculpture making process, between drawing or clay modelling and bronze castings or marble carvings. They offer an insight into Rodin's making and creative thought process.
Each sculpture is positioned in such a way that offers a 360 eye-level view that feels quite personal. The viewer is exposed to the vulnerability and fragility of plaster as a raw and messy material. In contrast to Tate's contemporary 'white cube' aesthetic of clean white and bright rooms. The collection's display feels like the artist's studio, emphasising that the making process is as empowering as the finished work.
Display breakdown
The exhibition begins with a display of Tate's acquisition of The Kiss (1882), one of three full-scale marble versions created, situated just outside the main entry of the temporary exhibition. Upon entering Room 1, you are greeted by the very life-like bronze sculpture of a Belgian soldier called The Age of Bronze (1877), for which Rodin was accused of cheating when it was first exhibited due to how realistic it was. This infuriated him and led to vast experimentations with exaggerated proportions and distorted anatomy that later on became his trademark.
Rodin used the traditional sculpting process creating multiple copies of each artwork. A mass-production system that gave him the means to break them apart and put them back together in different arrangements and studies, perfectly expressed within Room 2. Curated to resemble the exhibition at the Pavillon de l'Alma in Paris in 1900, which Rodin organised himself, it consists of selected sculpture variations like The Thinker (1903) and Balzac (1898), alongside archival photographs demonstrating the creative aspect of repetition and reproduction.

© A. Papaonisiforou.  Tate Modern
In an attempt to explore and expose the intriquette dynamics between the artist and his models, Room 3 is a brief display of female figures' drawings in movement. Room 4 is a collection of works of models Ohta Hisa (Hanako) and Helene Von Nostitz née Hindenburg. In contrast, Room 5 revolves around the artist's collaboration with Camille Claudel as a model or regularly described, his muse, as well as a sculptor herself. It's no secret that a factory-style production of sculptures like The Gates of Hell required a team of assistants; with whom Claudel was heavily involved.
At this stage of the exhibition, you come face to face with just how many productions and reproductions of individual body parts were created for a single finished work. Rodin liked to call them 'giblets', drawers upon drawers filled with small crafted limbs and heads made out of plaster, an endless supply of parts that could make for any pose intended. Room 6 displays this on an even larger scale with The Burghers of Calais (1889) and the 'extra' hand-cast displays initially made for it. Rooms 7 and 8 demonstrate more examples of fragmentation and repetition almost in a 3-dimensional collage manner proving that none of his works constitutes unique individual artworks.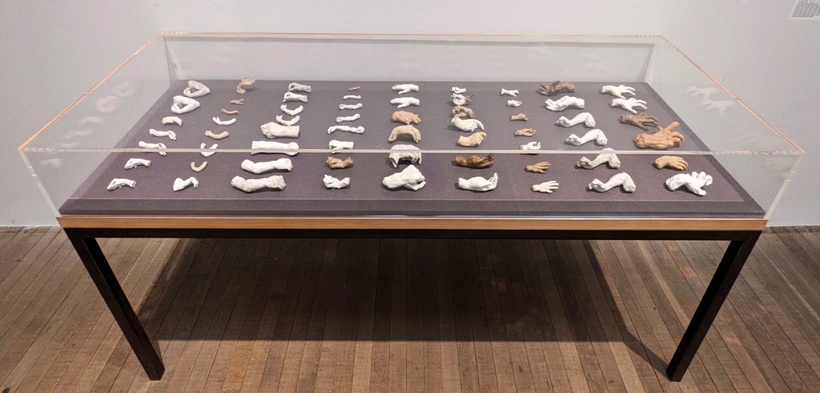 © A. Papaonisiforou.  Tate Modern
Overall impressions
The exhibition The Making of Rodin is the first exhibition at Tate Modern to open since lockdown was lifted. Supported by the EY Tate Arts Partnership through the pandemic and following the new safety regulations, it offers limited visitors at a time a unique experience.
If you are anything like us, you get to appreciate the small number of visitors in each room and get to experience the exhibition without being overwhelmed by large crowds.
Visiting galleries post-pandemic feels like a new experience on its own, taking your time exploring without the need to peek through people just to get a glimpse of an artwork or feel like you need to rush through a display. Not to mention the one-way route system ensures you do not miss anything and get to view the show the way the curators intended following a specific storyline.
Our take
There is no doubt Rodin is an extraordinary artist with very out of the box ideas for his time. This exhibition, although inspiring, does little justice to his life-work, as it only focuses solely on Rodin's way of making. A more biographical context of his body of work can be viewed at Musée Rodin in Paris, with a collection of roughly 400 artworks displayed within its galleries and gardens. The sculptures are placed in perfect harmony within the spaces of this 18th century French mansion creating quite the impact on any visitor and we definitely recommend a visit.
I want to learn more:
The EY Exhibition The Making of Rodin
Introduction to the Making of Rodin Audio Guide
Rodin's First One-Man Show by John Sillevis
About the author:
Anastasia Papaonisiforou is a London based exhibitions expert with an MA in Curating and Collections and a background in Fine Arts. She is our oldest patron and graciously accepted to cover this topic for Local Approach; she is available to give advice on discord through our "Let's talk about your heritage!" membership, upon specific request.
[Edited A. Gkouma]
More from Anastasia:
Curating: a viewer's perspective
Your Curated Reading List series
About Exhibition Reviews
We are looking to expand our content and introduce practical examples to heritage management. Thus, we launch this mini-series of exhibition reviews with the first on The EY Exhibition, The Making of Rodin currently on display in London. Anastasia visited the show and gave us the honour of writing the first piece in the series.